Lourdes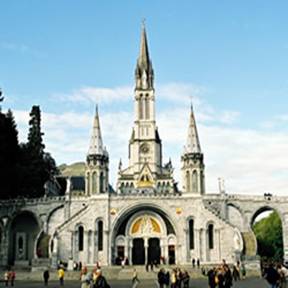 Lourdes is the most visited pilgrimage destination in Europe with 6 million pilgrims visiting this small town at the foot of the Pyrenées every year. Since 1858 an estimated 200 million people have visited Lourdes.
On 11 February 1858 Bernadette Soubirous, along with her sister and a friend went to gather firewood at a place called the Roc de Massabielle. Bernadette saw a "beautiful lady" who continued to appear to her 18 times in total up to 16th July of the same year.
It was what the Lady said on the 13th apparition, on 28th February that was to be decisive for Lourdes' future. "Go tell the priests to build a chapel here and come here in procession". On 25th March, during the 16th apparition the Lady revealed herself by saying, "I am the Immaculate Conception".
On 18th January 1962 the local bishop spoke on behalf of the church and confirmed "The Virgin Mary has truly appeared to Bernadette Soubirous".
Today Lourdes is a place of universal meeting and sharing, prayer and celebration of life. The serenity and tranquillity of Lourdes has brought peace of mind to many pilgrims.
During the Jubilee celebrations the message of Lourdes will be highlighted through 12 different themes or missions, taking place at different times of the year.
Pilgrimages to Lourdes include the following,
Return Flights,
Transfers from Airport to Hotel to Airport,
Accommodation on full board basis,
Guided Tours of the Sanctuary,
.Walking Tour of Lourdes,
Full Religious Programme led by a spiritual director
Shrines of France
Some of France's most beautiful shrines include Lourdes, Lisieux, Nevers, Rocamadour, Paray-le-Monial, Ars, Valence and Paris.
Tour Includes return flights accommodation for seven nights Full and Half board, not included is tax and insurance.
Fatima
The village of Fatima is a renowned place of pilgrimage and is home to one of the world's most famous Marian Shrines. Here The Blessed Virgin Mary appeared to three shepard children near the town of Fatima between May 13th and October 13th 1917. Our Lady told the children that she had been sent by God with a message for every man, woman and child living in our century and promised that Heaven would grant peace to all the world if her request for prayer, reparation and consecration were heard and obeyed.
What's included
Return flights
Return transfers from Lisbon airport to your hotel
Hotel accommodation for relevant number of nights
Guided tour of the Sanctuary Square
Half-day sightseeing tour of Fatima visiting the places relating to the children and the locations of Apparitions
A half day sightseeing tour of the Fatima area visiting the places relating to the children and the locations of the apparitions
Pilgrimage badge
Full religious programme led by a Spiritual Director
Italian Tours
Italy, the ideal holiday and pilgrimage destination has something for everyone; history, art, natural beauty, fine cuisine, an enviable climate and lots more. Visit Rome, the Eternal City, home to the Vatican and St. Peter's Basilica, while also enjoying Rome's ancient Coliseum and Forum.
Trace the footsteps of St. Francis to his birthplace, Assisi, a beautiful medieval town, set in the rolling Umbrian hills. Enjoy a deeply spiritual experience in San Giovanni Rotondo at the friary of Padre Pio, now known as St. Pio of Pietrelcina. We have direct flights from Dublin to Rome every Friday from May to October and on certain dates have departures from the regional airports of Shannon and Cork. For non-religious cultural escorted tours to Rome, Sorrento and Lake Garda,
Holiday options
Rome 3 nights & San Giovanni Rotondo 4 nights.
Return flights, transfers, accommodation and city Tours
Rome 2 nights, San Giovanni Rotondo 3 nights and Assisi 2 nights
Return flights, transfers, accommodation and city tours
San Giovanni Rotondo 3 nights Sorrento 4 nights Return flights, transfers, accommodation and city tours
HOLYLAND
Pilgrimages to the Holy Land include the following,
Return flights from Dublin.
Return transfers,
5 nights accommodation on Half Board basis in Jerusalem
4 nights accommodation on Half Board basis in Tiberias
7 days sightseeing in Air-Conditioned Coach.to visit sights such as,
Jerusalem, Mount of Olives, Garden of Gethsemane, Mount Zion, Qumran, Mount of Beatitudes, Cana of Galilee, Nazareth & Bethlehem.